Daily Mail article discusses benefits of residential courses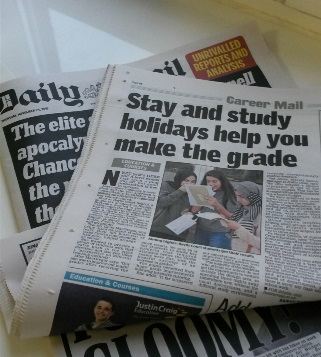 Next year's GCSE and A-Level exams may seem a long way off, but good preparation is key to success. Last minute cramming is never ideal, and the best approach is consolidating knowledge and making sure revision is organised and well-structured.
Staff at Baylis Court School, a single-sex academy in Slough, Berkshire, decided to give their GCSE pupils the edge during the Easter holidays by booking the onto a Justin Craig residential revision course. Some 28 students took part in revision classes n triple sciences, English Language and Literature, Maths, French, Business Studies and Geography.
Teacher Laura MacGregor, who helps disadvantaged reach their full potential as Baylis Court's pupil premium champion, helped arrange the course. She wanted to provide a group of students with that 'extra push in the right direction' and also give them a 'perspective on different teaching methods'. Miss MacGregor says: 'Our aim was to improve our pupils' grades after receiving the mock results. We sent 28 of ur students to study key subjects that required attention before the GCSE exams were due, with the hopeful outcome of an increase in grades'.
The pupils benefitted from 'huge' grade improvements following intensive tutoring. She added 'It far surpassed our expectations – everyone improved their grades over and above previous results. The majority of the students who attend our school do not get the opportunity to venture outside the Slough area, so spending three nights away somewhere new, without the usual distractions, and a different study environment received overwhelmingly positive feedback.'
Ian Jones, Schools Liaison Manager at Justin Craig, says: 'We offer schools a unique experience at one of our revision courses. This can be arranged within the limitations of the school's budget. We were delighted to help Baylis Court and even ore delighted to see the results.'
Justin Craig Education is a leading provider of GCSE, AS and A2 (A-Level) revision courses, with more than 30 years' experience and centres nationwide. Group tuition involves helping small groups of four to nine students work intensively on one subject for two to three days.
Dr David Crouch of Justin Craig Education, says: 'These group settings often stimulate you to ask and answer questions you didn't consider, and the group dynamics often provide examples of strong learning habits. This is especially true when you are studying a text or case study when there is more thane correct approach. Justin Craig courses are during school holidays and the tutors are also experienced and practising teachers / Head of Departments, so there is never any clash with school work.'