CENTRE OVERVIEW
City of London School for Girls is a non-denominational, independent day school, based near the Barbican centre in the London Square Mile. Established in 1894, the school moved to the present premises in 1969. Though the new School building is today part of a modern City development, the whole Barbican site is still rich in reminders of the area's historic past. Opposite the front of he School is part of the wall of the great Roman fort built in approximately AD120.
At the City of London School for Girls, we do not offer meals and recommend students either bring a packed lunch or buy something locally – there is a wide array of options on the doorstep including, restaurants, delis and sandwich shops. There is a small snack shop onsite selling sweets, drinks and savoury snacks.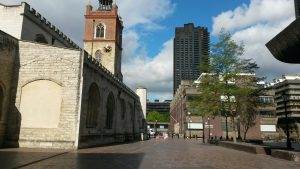 COURSE AVAILABILITY
We offer courses at the City of London School for Girls at various times during the academic year. To find exact dates of when we are running courses at this centre, please see our Centre Timetable . For specific subject availability, please call us on 01727 236135 or email us.
HOW TO FIND US
ADDRESS: City of London School for Girls, St Giles' Terrace, Barbican, London, EC2Y 8BB,United Kingdom
PUBLIC TRANSPORT
Being in heart of the City, the school is easy to reach by public transport with the closest tube stations being Barbican and Moorgate, both of which are 5 minutes walk.
Barbican underground station is served by the Circle, Hammersmith & City and Metropolitan lines. Moorgate station offers weekday main line railway services for Hertford, Welwyn Garden City and Letchworth, operated by Great Northern, while the underground station is served by the Circle, Hammersmith & City, Metropolitan and Northern lines.
Buses 8 and 56 stop at the Barbican.
For walking directions, please click here.
BY CAR
T he A1 and London Wall pass next to the Barbican Centre.
No parking available.
City of London School for Girls
Barbican
London
EC2Y 8BB
United Kingdom
Back to location list