COURSE AVAILABILITY
Our courses at Chetham's at February, May bank holiday and May Half Term on the following dates for day courses:
19th to 22nd February
8th to 10th May
25th to 28th May
And on the following dates over the Easter holidays for residential courses:
5th to 7th April
8th to 10th April
For specific subject availability, please call us on 01727 744340 or email us.
CENTRE OVERVIEW
Established as an independent music school in 1969, Chetham's is situated in the heart of Manchester in Cathedral Gardens, a new green space for the city. It offers superb facilities split across two sites, with the medieval charm of 15th century College House and the contemporary elegance of the New School Building, filled with natural light and state of the art facilities. Students can attend courses here either as a day student or on a residential basis.
Chetham's offers a number of meal choices and can cater for most dietary requirements with prior notice (taken at time of booking). There is also a snack shop onsite selling sweets, drinks and savoury snacks.
For residential students, accommodation is provided in comfortable bedrooms, sleeping a maximum of 4 of similarly aged students, in secure single sex dorms. Staff remain on site 24hrs per day to ensure student well being and safety.
Facilities available include a common room with television/ dvd player as well as spacious grounds for relaxation in the evening and at break times. Free WIFI is available.
Staff regularly organise group activities for students in the evening, such as basketball, rounders or fun quiz nights.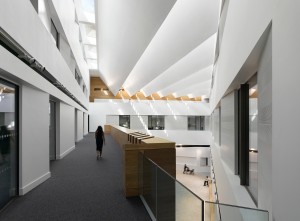 HOW TO FIND US
ADDRESS: Chetham's School of Music, Long Millgate, Manchester M3 1SB, United Kingdom.
PUBLIC TRANSPORT
Chetham's is situated opposite Manchester Victoria Station with services direct from the North-West. Manchester Victoria station is a ten minute tram journey from Manchester Picadilly station, with other Metrolink services from Altrincham and Bury.
Buses (numbers 59, 135 and 149) stop a few minutes walk from Chetham's on Corporation St and at Shudehill Transport Interchange.
 CAR
From the A56, take Bury New Road going into Central Manchester. Turn off Victoria Street into Hunt's Bank and the right into Walkers Croft. From South: M6, exit junction 21A onto M62. From M62, follow M602, then A5063, A6, A8042 and finally A56. From North & East: M62 westbound towards Manchester, follow M60 to junction 17, and onto A56. M66 south onto M60 and finally A56. From North-West: M6 southbound, onto M61, M60 and finally A56. From West: M62, onto M602, then A5063, A6, A6042 and finally A56.
Limited onsite parking – disabled parking permit holders only.
NEAREST AIRPORT
Manchester airport
Chetham's School of Music
Long Millgate
Manchester
M3 1SB
United Kingdom
Back to location list