Case Study: A Cost Effective Solution to Boost Exam Results for Pupil Premium Students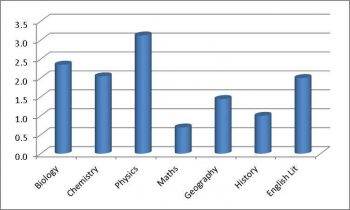 "Using external tuition can be a highly effective strategy for helping disadvantaged students from falling behind and maximising their performance in exams" says Dr David Crouch, independent education consultant. "As an experienced secondary school teacher, I am very aware of the competing demands on school budgets and the pressure to ensure effective use of the pupil premium allocation. Whilst extra tuition provided by third parties is not the panacea for disadvantaged students, it can be used very effectively to enable schools to optimise their pupil premium budget and boost student exam results. "
Here is a recent example of how one school, Baylis Court, partnered successfully with Justin Craig.
Background
Baylis Court School is an Academy with Specialist Arts Status for girls aged 11-19 in Slough, Berkshire. The school is acknowledged for its expertise in helping disadvantaged students and is a regional winner in the Pupil Premium Awards, which considers the impact of how schools use their grant to support its PP students.
School Goals
Laura McGregor of Baylis Court School came to Justin Craig to give students that extra push in the right direction, and also to gain a different perspective on different teaching methods.
"We wanted to improve our pupil premium students' grades after receiving their mock results", Laura explained. "We sent 28 of our students to study some key subjects that required attention before the GCSE exams was due, with the hopeful outcome of an increase in grades".
Services provided
The school was offered a wide variety of subjects, timings and study centres from which to choose. Working together, Justin Craig then utilised the knowledge and experience of the students' teachers to create a bespoke programme of revision courses tailored to the needs of students at one of their prestigious residential centres. By choosing a residential centre, students had the additional benefits of focused revision time in a stimulating learning environment without the diversions of home life.
High quality tuition was ensured as a result of small classes (max 10) and the use of experienced, subject experts recruited for their ability to inspire and facilitate learning. At an average cost of £750 per student for 28 hours tuition covering 4 GCSE subjects, the courses also represented excellent value for money.
Outcomes
With an average improvement of 2 grades, the school was delighted with the outcome "It far surpassed our expectations – with everyone improving their grades over and above previous results."
"The majority of the students who attend our school do not get the opportunity to venture outside the Slough area and spending three nights away somewhere new, without the usual distractions and a different studying environment received overwhelmingly positive feedback."
A breakdown of the grade uplift achieved for each of the key subjects by Baylis students attending a JCE revision course is illustrated above. These uplifts are the average across all students studying that subject, comparing the results of the GCSE public exams vs school mock results.
Conclusion
Based on research by NFER, greater success for disadvantaged pupils is achieved by schools using a combination of support which is strategically organised and bespoke to the individual. As demonstrated by the Baylis School Case Study, services provided by third party specialists deliver results and can be a highly effective part of a PP strategy, with the best results being achieved by schools starting discussions early and working in close partnership with the provider.
If you would like to know more about this or any of Justin Craig's other school partnerships, please do not hesitate to contact us. We are always open to ideas from schools on how we can improve and enhance our service and welcome school input.