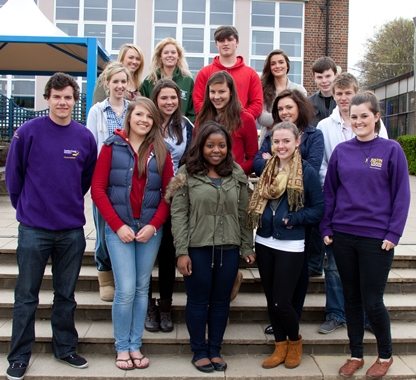 On Thursday, hundreds of thousands of UK teenagers are finding out their GCSE results. For those who achieved their desired grades, congratulations! However it won't be a success story for all and, this year, it's likely that there will be a higher proportion of students who face disappointment, given the tougher syllabus of the new GCSEs.
About half a million 16-year-olds sat the reformed GCSEs this summer and will receive results graded from 9-1 rather than A*-G. Research published by Cambridge Assessment, one of the country's biggest exam boards, is predicting that as few as 200 star pupils will achieve a clean sweep of top grades under the new GCSE grading system, representing a 90 per cent drop in the number of students receiving the top grades compared to the previous system.
For parents of teens with disappointing grades, it's important to stay calm and help keep everything in perspective – no matter your child's grades, there are lots of options available. Stephen Moore, Director of Justin Craig Education, recommends:
Discussion with teachers on results day
Regarding performance on different papers, proximity to grade boundaries and whether it's worth getting papers back or remarked. For Maths and English, resitting is compulsory for students failing to achieve a pass (grade 4) if they are under 18 and/or studying full time. In other circumstances e.g. apprenticeships, it may be possible not to resit some GCSEs, but to take a functional skills qualification instead of the GCSE. For other subjects, resits are not compulsory but low grades may affect decisions about A Level choices – again, teachers can provide invaluable support here.
Speak to the Sixth form or College
If your child has narrowly missed the required entry grades, its worth speaking to their preferred sixth form college as they may still offer your teen a place, particularly if extenuating factors could have affected their performance. If that's not possible, they might allow your child to transfer to a different course or subject, or recommend other colleges and sixth forms which might suit
Providing support and encouragement
To help research and evaluate all the various different options. For example, if your child doesn't want to resit their GCSEs, then it's time to make a plan that takes their grades into account. If however, they have a specific career in mind, then now is the time to research all the possible ways it can be achieved! Whilst retakes may be required, there will be other routes, for example, apprenticeships, professional courses, access courses, entry-level roles, work experience, volunteering.
For students considering GCSE retakes, the key to retake success is to learn from the experience and then to create a new study programme. For example, this might entail requesting papers back from the exam board to identify where marks were lost, discussing their approach to revision with teachers or getting specialist support from private tutors or revision course providers.
For more advice from Justin Craig Education on how to achieve exam success, call us on 01727 744340.