Interactive Workshop for Parents & Students: Studying with the Brain in Mind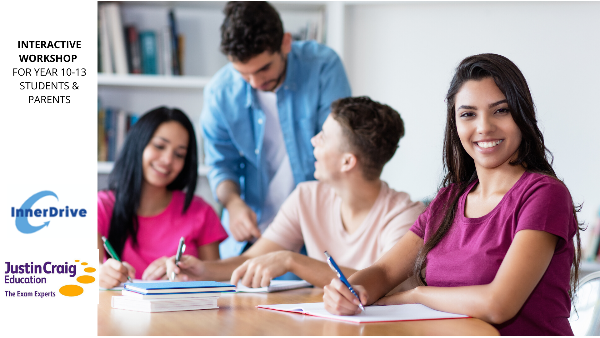 We are delighted to invite you to our interactive workshop, which will be led by Inner Drive, the highly regarded mindset coaching company.
The Event
This interactive workshop will provide insights into the teen brain and lots of practical advice to help students study more efficiently. By better understanding how the brain works, students are able to use it better and improve their revision effectiveness.
Based on years of cognitive psychology and neuroscience research, Inner Drive's approach is to make things very simple and understandable, whilst using lots of practical experiments and videos. This workshop will help students improve their:
Self-awareness
Independent studying
Time management
Self-regulation
Following the  main workshop, there will be an informal Q&A session with the Inner Drive and Justin Craig Teams.
This workshop is ideal for students in years 10-13 and their parents, but is open to anyone interested in helping students get the most out of their exam experience.
Our Speaker
Inner Drive is a specialist mindset coaching company working in education, business and sport to improve client motivation, learning, confidence and performance.  In addition to  working with over 300 schools in England, it  also works with a number of elite sport clients and has developed courses for companies and for the civil service.
How to Book Your Space
There are limited spaces so please guarantee your place now. Book tickets here.