Student Review – GCSE & A Level Revision Courses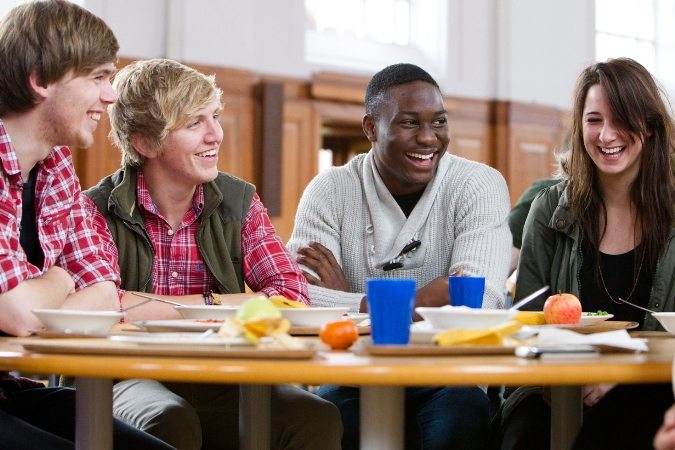 To be honest, I wasn't really keen about going on a Justin Craig revision course.
I thought it would be really intense and wouldn't be able to keep up with other students. But I knew I was struggling with certain GCSE subjects at school, so I agreed to go.
The Course
My first course was a three day GCSE Maths and Geography course. I thought 18 hours of revision would be a bit much – but time flies so fast when you're on these courses.
On arrival the Course Assistants handed me my personal timetable. This was really useful as it detailed the structure of the whole course – most importantly when lessons started and ended, and break times!
Before lessons, the Course Director (like a Head) gave a welcome talk. This was extremely helpful as it made you feel very calm and relaxed, giving course knowledge and the fact you could talk to the tutors, Course Assistants and Course Director about anything.
The Class
After the welcome talk, my tutor collected our class. The classes were very small – mine had 8 students in it. I think classes this small are a lot more effective because you cover content you and other students requested on the student portal. Also small classes really help you focus more, and if you find something difficult there is more of a chance for the teacher to work one on one with you.
The tutor had us do a 10 minute activity, which they asked us to tell everyone a little about ourselves – where were from, what we do for example. In my opinion this was a beneficial activity because everyone relaxed and felt we could talk to each other. This really helped when we were doing group revision, as not only did the teacher help out but students would help other students out as well.
Making friends on these courses (which will definitely happen) means it is fun and you enjoy these course a lot more. I have met so many new friends from the courses, some I still keep in touch with. When revising it wasn't as extreme as I thought it was going to be as the tutors make sure they are going at a pace that fits everyone in the class.
The Difference
My first perception was that it was going to be exactly like school. Far from it. You're in a class with other motivated students that want to learn and get work done. The tutors really made it enjoyable as well; when revising, they would have different exercises to make the revision more effective rather than just teaching from a text book.
When revising it wasn't as extreme as I thought it was going to be, as the tutors make sure they are going at a pace that fits everyone in the class.
The Tutors
My Justin Craig tutors really knew the best and most effective way on how to revise and how to get the most out the three days. By the end of my course I felt a lot more positive with both subjects. This was especially true with my GCSE Maths- my predicted grade was a D, but my actual result was a B! I really believe Justin Craig was the main reason I went up two grades.
The best part of the revision courses is definitely how much you get done over the three days. The tutor already knows what the students are mostly struggling with because of the portal. The student portal is an online password protected area where you can enter details about the areas you struggle with. The tutors covered those areas, making sure we knew and understood it.
A Level Revision Courses
I found the Justin Craig A level courses even better than the GCSE revision courses. The A level courses go into much more depth and examiners expect a lot more of you when answering questions.
I did the three day and one day courses in Economics and Business. I struggled more with this but the tutors were very good at explaining not only the content but how to actually answering the different type of questions. They also give you so many helpful resources when you're studying on your own. The tutors are very easy to talk to with any problem you are having regards to your subject.
Feedback & Results
At the end of the courses you fill out a survey telling Justin Craig what your experience was like on the course – I have never had a bad thing to say about the courses! The tutors on theses courses are of such a high standard and they really make you work hard. I really believe that Justin Craig has improved my grades in all the subjects I've done courses for.
I have been on quite a few courses because I find them tremendously effective and productive. I would recommend these courses to anyone who is serious about achieving better grades in their exams.