Super-Curricular Activities For Personal Statement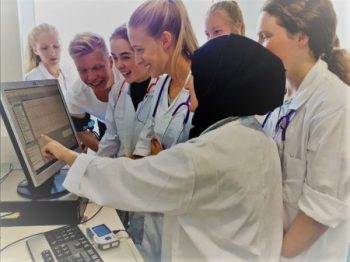 This year's application to universities
The UCAS deadline is January 15th for entry in 2018 for all applicants except Medics, Vets, Dentists and Oxbridge. It's taken as granted that the most sought after courses have the highest grade entry requirement. If you are looking to trade in a grade B for the necessary A*, the fastest way to do this is often a short intensive 4 day revision course by expert tutors who know all the short cuts and can steer you to the highest grades. But don't neglect your personal statement.
Top universities and popular subjects, will want you to demonstrate your enthusiasm for your chosen subject far beyond the classroom if you are to get one of their places – what better way to do this than super-curricular enrichment?
Super-curricular activities
These are the "next level" in extra-curricular involvement. Activities undertaken outside of the normal classroom but directly related to the subject you are hoping to study at university; unlike extra-curricular involvement which are largely ignored by leading establishments.
Super-curricular evidence can enhance your personal statement. It provides universities with confidence that you have thought hard about what you want to study at university and are serious about their course. Their confidence in you means you are more likely to gain one of the limited number of offers available and could result in a lower grade entry requirement. In short, they are more likely to want you, so why wouldn't you include it on your personal statement?
University Offers
Birmingham and Nottingham universities have started offering unconditional offers of study to students with the required school predicted grades and a good personal statement. Both provide advice on the importance of super-curricular involvement on their websites. Likewise Oxford university who famously described "extra curricular involvement" as not important to gaining an offer now have an entire website "staircase 12" dedicated to super-curricular activities.
Super-curricular Subjects
Some subjects are easier to get super-curricular enrichment in than others. For example, aspiring Medics and Dentists often volunteer in local care homes and dentists. As well as being a rewarding and enjoyable way to spend your free time, they allow you to develop interpersonal skills in patient contact and provide you with a real life glimpse into your future career beyond University. Likewise, Maths and English super curricular evidence can be gained by an online search and entry to one of the essay competitions and Maths challenges around. All the better if you score highly!
Science Suggestions
Some of the hardest subjects to get experience in are the Sciences. Unless you can use a family contact, it can be almost impossible to gain laboratory experience, but a few opportunities do exist and will make you stand out:
Offer to run a science club or clinic in your school – talk to your teachers about this first. Helping tutor younger students struggling with science will hone your skills to breakdown difficult concepts explaining them in clear language and prove your understanding is complete.
Subscribe to a science journal – many are now online and your school library if they don't have them may be able to give you a discount code. These will keep you right up-to-date with cutting edge developments you will never learn about in school to mention in both the personal statement and subsequent interview.
Sign up for a laboratory skills placement: A few leading education providers, such as Justin Craig Education have teamed up with some outstanding Biochemistry research facilities and ar­­­­e now offering short clinical and laboratory based training courses from the beginner to advanced level. Perfect for years 11 and 12, these develop real world laboratory skills on cutting edge equipment in leading laboratories and can help students compete for the best university places. These super-curricular activities are those that also add benefit to your revision, and in turn, boost your grades. As you are carrying out volunteering time or laboratory experience, you are consolidating the knowledge you have gained through school study and revision.
By using your subject knowledge in a practical environment, you will enhance your ability retain the information, and recall your knowledge using the memory of the activity carried out. This also helps your revision by developing new ways of answering questions in your exam itself.
Dr David Crouch