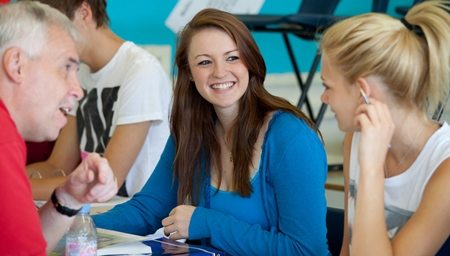 Sometimes, students don't achieve the grades they expected to, or they feel that they could have done much better than they did. If this is the case and you feel that a better grade is achievable, retaking your exam is an option.
A Level resits are a daunting prospect, with schools sometimes unable to provide the direct support necessary for focused resit revision alongside teaching a new module. The idea of having to repeat exams can cause frustration, irritation and worry. It's important all students realise they do not have to cope by themselves when it comes to exam resits.
We provide revision courses to get students well-prepared for their A Level retakes, arming them with the knowledge they need to succeed this time round.
We offer revision courses for virtually all A Level subjects. Ideally suited to students facing A Level resits, they provide structured revision time in a friendly, distraction free, small group environment.
Our aim is to assist both parents and students with the stresses that A Level resit exams can involve, helping to relieve the anxiety that can be associated with retakes.
How do I retake my exam?
If you have failed your exam then you have several options;
Have your paper remarked
Resit the exam
Accept your grade
If you wish to have your paper remarked or you wish to resit at the same school, you will need to notify your teacher. If you are opting to resit, the school can notify the exam board and register you for the retake.
Resits are often carried out at the same school but students do have other options;
Transfer to another school or college
Enrol online as a private candidate
When can I retake?
Currently, students are able to retake exams the following May/June. This allows all students who are retaking plenty of time for revision, even if they decide to work or volunteer during that year (which will look fantastic on a UCAS application!).
Does retaking A Levels affect my chances of getting into university?
In short, no. Retaking any A Levels does not usually have any impact on your university application, the only thing that matters is the grade achieved.
However, you should be tactile in how you discuss your resits on your application and in interviews. Focus on the positives, such as any work or volunteer experience you may have gained, and outline how it has helped you develop as a person.
You should also note that for extremely strict courses, such as medicine, you will not be able to enrol if you have taken 3 years to complete A Levels.
How can I make sure I pass my retake?
If you have opted to resit then fantastic, you have another shot at a top grade! But you'll want to make sure you pass this time. By using a one-to-one tutor, or enrolling in specialist revision courses, you'll give yourself the best shot at passing your retake and getting into university.
Small Group Revision with Expert Tutors
All our exam revision courses are led by expert tutors, who excel in their respective fields of knowledge. As well as knowing about the relevant subject, they have an excellent understanding of the exam syllabuses and what students doing A Level retakes will need to cope with.
Many of our tutors are examiners, which means they can provide an unparalleled insight into how to approach exam papers and what to do to maximise marks. It's exactly what you need to cope with A Level exam resits.
For students preparing to resit exams, our A Level revision courses offer several advantages over traditional tutoring or revising alone. Each revision course involves a small group (around six on average) – small enough to be friendly, but big enough to share ideas.
We always ask students which areas they'd like their course to cover, so we can address the areas that caused problems the first time round. And as confidence can be an issue for anyone having to do A-Level retakes, our tutors put time and effort into helping develop students' self-belief and exam technique.
A Level Resit School Support
Justin Craig is also able to support schools through our school specific revision courses. We know that resources can be stretched if you are attempting to support students with retakes, as well as those about to undertake A Level for the first time. Our school specific revision courses are designed to compliment existing knowledge and relieve the pressure from teachers and staff.
Contact us today for more information about our A-Level exam resit preparation and revision courses. Or, alternatively, you can request a prospectus now.