Group tuition – How to Pass GCSE and A level exams!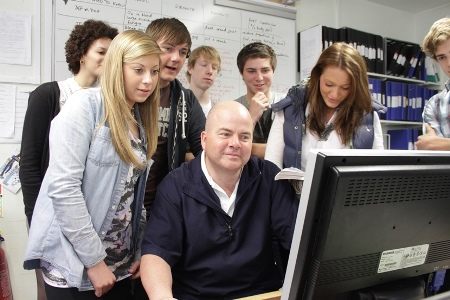 Small Group Tuition: The Key to Passing GCSE & A Level Exams
At Justin Craig, one of our top revision tips is to work within a group, but the question of how to revise is one many parents and students struggle with. It has been accepted since the late 1930's that people who cooperate and work together to achieve shared goals are more successful in achieving their outcomes that those who work individually (ref 1). In this article we contrast the pros and cons of group versus one to one revision tuition for both GCSE and A Level students.
Flexibility
Scheduling is certainly more flexible with individual tutoring, taking place at any time throughout the year. With tutors coming to your house, you can transform travelling time into valuable revision time with focused individual attention. In reality, most tutoring takes place after school when students can be tired, or during a school term when they are trying to keep up with the demands of school and homework. Some students appear to do worse at school because they are being tutored simply when they should be doing homework!
Group tuition at a Justin Craig revision course involves tutoring small groups of 4-9 students intensively in one subject for 3-4 days at a school centre. The opportunity to travel to a new destination is a great way to remove all distractions.
These group settings often stimulate you to ask/ answer questions you didn't think of on your own and the group dynamics often provide examples of strong learning habits. This is especially true when you are studying a text or case study when there is more than one correct approach.
Justin Craig courses take place during school holidays and the tutors are also experienced and practicing teachers/ heads of departments – so there is never any clash with school work. Additionally using schools makes for a familiar and perfect learning environment.
Cost
The main advantage of group tuition is undoubtedly the reduced cost. Typically, a Justin Craig course lasts 3-4 days with 21-24 hours of tuition, which works out at £30 per hour – a lot less that the average private tuition rate of £40 -50 per hour.
Consolidating information
Individual tuition typically lasts 1 hour at a time and is a great way of focusing on one particular weakness, with the tutor carefully scaffolding each of your answers to break down how to do better in the exam. But sometimes that just isn't enough time to get to grips with a difficult concept.
During group tuition, students learn at different rates and helping each other in topic areas is a great way for them to cement their own understanding, and develops great confidence and friendships too. Working in groups is a great way to motivate yourself and allows you more time to work on your exam technique.
GCSE or A level tuition
Applying to university through the UCAS system will be dependent on getting good grades at A level. But with many schools opting to no longer take AS level exams, universities are increasingly looking at full GCSE results as a level playing field to decide on student ability before giving a conditional offer. This means gaining good grades in GCSE subjects is extremely important – even in those subjects you don't wish to take forward.
Benefits of Tuition
Whether you decide on individual or group tuition the benefits of tuition are clear:
Increases knowledge and understanding of subjects
Increases motivation to succeed
Intensive practice
Improved self-esteem and confidence
Removes exam anxiety
Improves grades
Whatever approach you decide on, Justin Craig Education offers a range of small group tuition courses, tailored to the learning requirements of each student as well as individual tuition. We enable students to spread their revision through the year by offering courses every school holiday, starting in October, through to pre-exam courses in May/June focused on exam technique and practice. We use only fully qualified secondary school teachers who are recruited for their ability to enthuse, engage and empathise with our students.
By Dr David Crouch
Ref 1 May, M. and Doob, L. (1937). Cooperation and Competition. New York: Social Sciences Research Council